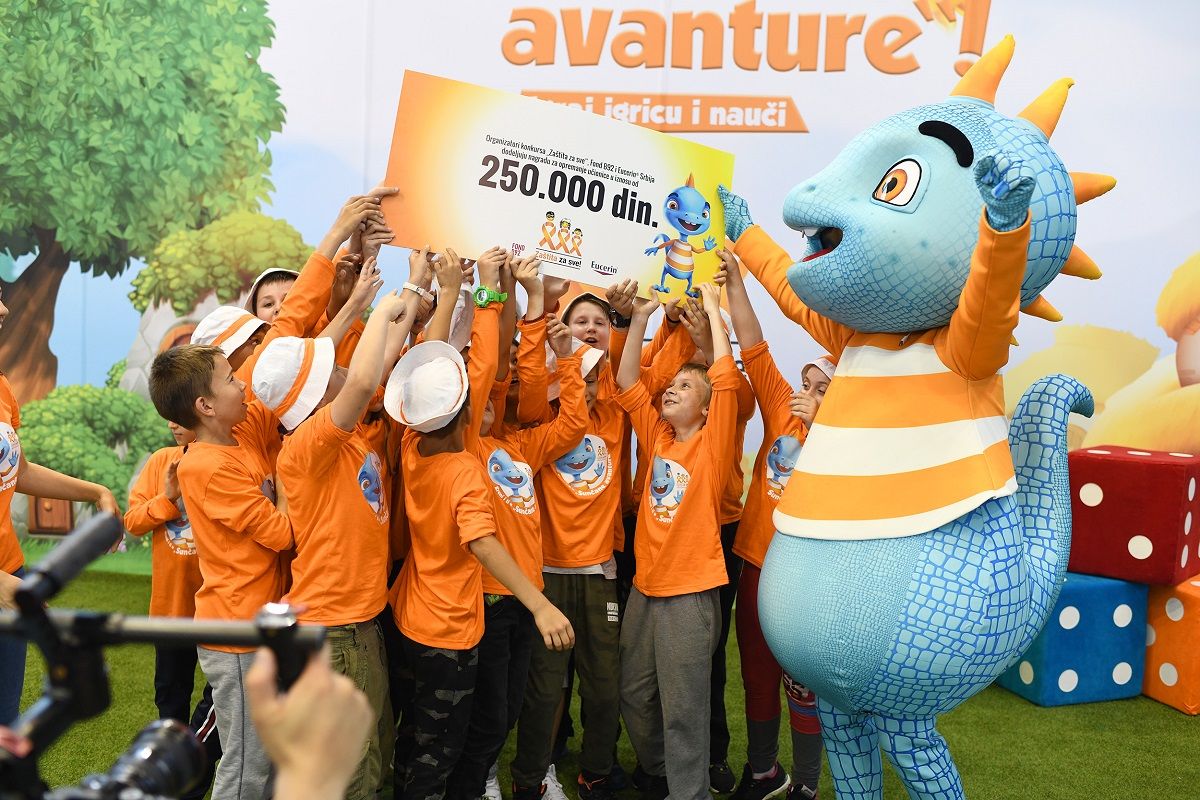 FCB Afirma created a great ending to a campaign "Protection for all", which has been successfully organized for the last two years by Eucerin Serbia and B92 Fond, with the support of the Ministry of Health and the Ministry of Education, Science and Technological Development of the Republic of Serbia. The event took place in the "Ranko Zeravica" sports center on the 10th of June. After a successfully finishing the contest that was organized during February for all the Elementary school students from Serbia with the subject "Two faces of the sun", five winning classes from different parts of our country had an opportunity to confirm their knowledge of the responsible behavior in the sun, and to win one more valuable prize – equipping the classroom in their school in the value of RSD 250.000.
This interesting competition was based on "Sunny adventures" game that the children had been delightfully playing for several months on their smartphones and tablets. By playing the game, they learn how to protect themselves from harmful solar radiation. Under the roof of the famous sports hall, the scenes from the game were brought to life, and the charming hosts of the competition were Osman Ahmed, famous kids' show star and multimedia artist, and the main hero of the game, Ceri.
Although all the classes showed amazing knowledge of the responsible behavior in the sun, one of them was a little luckier and skilled, so they won the competition and got a check in the value of RSD 250.000 for equipping their classroom. It was a class IV2 from "Dimitrije Todorovic Kaplar" Elementary school from Knjazevac, led by their enthusiastic teacher Gordana Janevska.
Besides the winning team, many other classes showed great energy and knowledge. Those kids come from different schools all around Serbia: "Jovan Jovanovic Zmaj" from Aleksinacki Rudnik, "Knez Sima Markovic" from Barajevo, "Radislav Nikcevic" from Majur and "Sava Sumanovic" from Belgrade.
If you want to make sure how funny and powerful " Sunny adventures" game is, you should definitely try it.