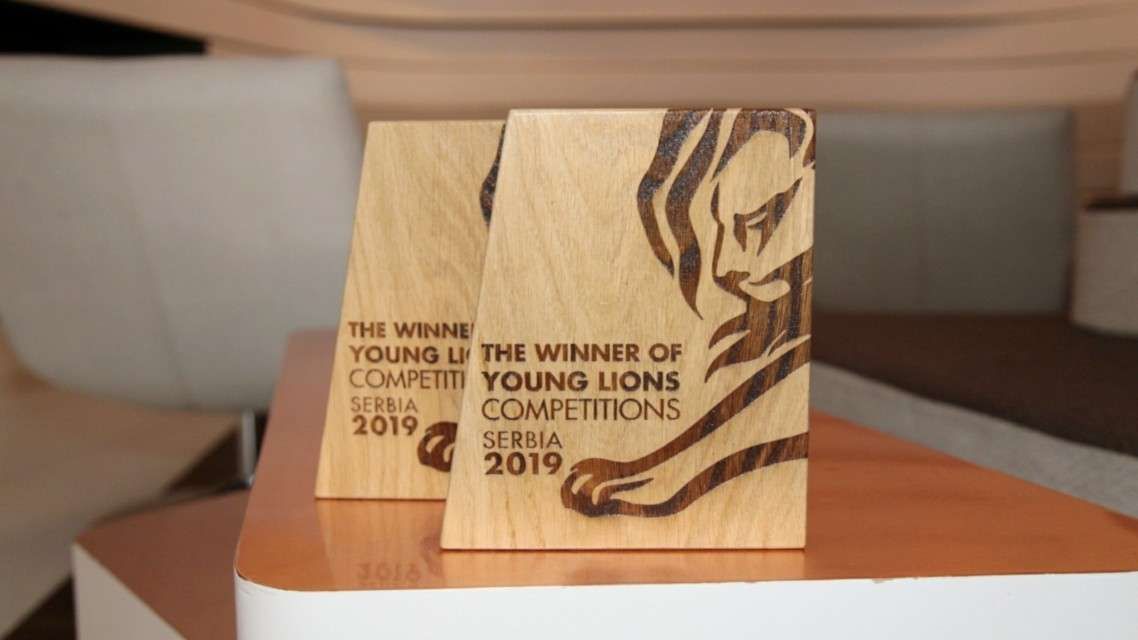 The statue for the Young Lions Serbia 2019 winners was designed by our creative director, Ivan Nikolić, and it went into the hands of the winning pair - Igor Maršićević and Ivana Knežević from the Drive agency.
An award ceremony for the best works was held at the Radisson Collection hotel in Belgrade. Among a large number of great works, the jury had chosen the winners in three categories:
PRINT - Vladimir Kondžulović and Ikonija Zdravković, Drive - Važno je da se čujete (important to be heard)
DIGITAL - Igor Maršićević and Ivana Knežević, Drive - Jer ja tako kažem nije argument (because I said so is not an argument)
MEDIA - Jovan Savić and Aleksandra Kojić, Block&Roll - Saslušajte naš glas! (listen to our voice)
The jury, made out of our advertising experts, had a difficult task of choosing the best of the best. Igor Maršićević and Ivana Knežević had shown us what is it like to be the best, with their work Because I said so is not an argument. They will have the honour of representing their country and defend its colours in Cannes, on the most prestigious global competition from June 17th till June 21st.
Veran Matić, president of the B92 found, Victor Nikolić, president of the Association for Market Communications of Serbia, Slavimir Stojanivić, the head of the jury, Iva Eraković, executive director of NGO Friends of children of Serbia, as well as our director for corporate communications Maja Barać Stojanović.
"FCB Afirma is proud of the fact that with its support and participation it contributed to the successful implementation of the project aimed at affirmation of young forces and the creative industry. Our mission continues, investing in youth and profession for us will always be a priority!" said Maja.