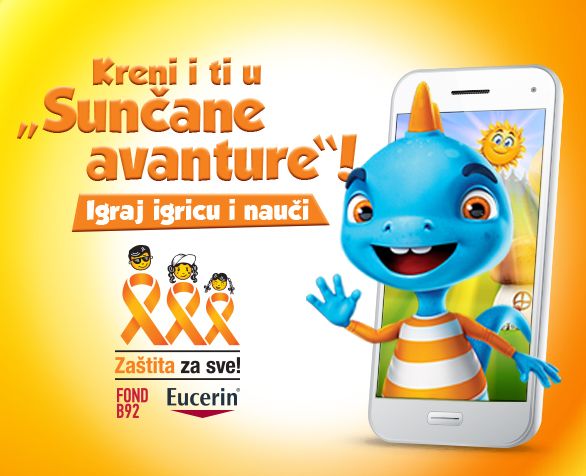 FCB Afirma has created an integrated social responsible marketing campaign "Protection for everybody" for its client Eucerin Serbia in order to raise awareness and educate both children and adults about responsible behavior in the Sun. One of the communication channels is video game "Sunny adventures" with main character Ceri the lizard, that was created and brought to life by our creative team.
The campaign and the video game was launched by Eucerin, in cooperation with the B92 Fund, the Ministry of Education, Science and Technological Development and the Ministry of Health.
The game is both fun and educational, and the children (and those who are young in spirit), through a digital game and competition, can learn everything that is important for spending the time in the sun and protection against negative sun radiation.
The main hero of the game is Ceri, who goes through various sunny adventures and accidents, in order to reach the goal in the fastest and safest way. And when you see the Ceri, you will hardly leave him until you finish all the levels. During the whole game, at key points, competitors can hear and read explanations that help them learn how to grow healthy under the sun.
Besides being educational, the game stimulates the competitive spirit, so the best results can be tracked within the Rankings. At the top of the list will be those who most quickly fully adopted the rules of protection from the sun.
Parents will surely approve this game, and after learning through it, the kids will be able to play safely in the sun, at the right time and in the right way.
We are already playing, now it's your turn!